Rotornoise is a music score production workshop established in 2017 by Alessio Lottero and Vanni Fiorelli. Rotornoise aims at combining creativity and the skills of a number of musicians and composers in order to gather musicians coming from different backgrounds capable of creating music scores which suit the audiovisual creations ( short movies, full lenght movies, documentaries and commercials) perfectly. The team work which is a crucial feature of our workshop enables us to enhance the creativity during the production without altering the style and the background of each one of us. The Rotornoise Soundtrack has been active for a couple of years in the national and international scene boasting partnerships with renowned audiovisual artists. Our musicians have the skills needed to merge different styles and ensembles.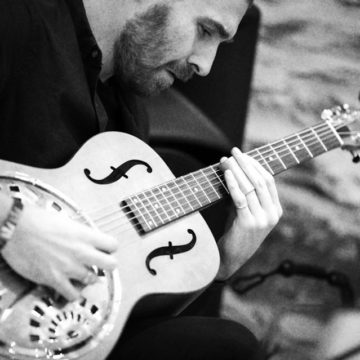 Alessio Lottero
Founder and Composer
Alessio Giovanni Lottero was born in Genova in 1981. At the age of 13, he began playing electric guitar, inspired by the English Blues and Rock music of the Sixties (Eric Clapton, Jeff Beck, John Mayall). He dedicated himself to acoustic guitar, Bluegrass, Country music and the different styles of the American guitar playing. He studied several years with the Italian pioneer of Flatpicking Beppe Gambetta. After this first period of basic approach to American Traditional Music and acoustic guitar, Alessio Lottero decided to go deeper and participated to the International Acoustic Guitar Workshops organized by Gambetta every year at Ambroz pod Krvavcem in Slovenian mountains. In 2004 and 2005, he performed on many concerts, guitar contests and open mic gigs, increasing his stage experience and receiving praise by several teachers and famous European guitarists as Misa Vavro, Martino Coppo, Roberto Dellavecchia, Paolo Bonfanti. He won twice the prize for the Best Composition of the Workshop. In 2006 he enrolled in the Accademia di Musica Moderna Lizard di Fiesole (Florence), the biggest and most prestigious College of Music in Italy. In 2007 he participated at the Siena Jazz Festival Summer Workshops. This seminary is part of the Siena Jazz Foundation program, the most important center of Jazz in Italy and Alessio had the opportunity to study with some of the greatest Italian Jazz masters (Tommaso Lama, Piero Leveratto, Stefano Zenni, Enrico Rava). In the following years he participated to several clinics on modern guitar and modern music with world-renowned musicians (Carl Verhayen, Scott Henderson, Marco Di Maggio, Leonardo Pieri. Five years later, he was awarded a diploma in Florence in Electric Rock- Blues guitar and Harmony of Modern Music. In 2011, he attended the Lizard Soundtrack workshop, learning film- scoring techniques from great Italian film composers (Simone Giuliani, Giulio Carmassi, Giuliano Taviani, Stefano Caprioli). Master of Orchestration (2012), with the aim to enter the world of music for movies and TV documentaries. Later on, he decided to go to the USA, New York. During two and a half years, he worked at recording studios and for commercial promotions with the Italian soundtrack composer Simone Giuliani as studio guitarist and arranger. He returned to Europe, and, after a period in Berlin, in which he composed and recorded music for some American short movies, he settled down in Zurich, Switzerland. Here he began to actively collaborate with NZZ Format and other local producers. He produced music for commercials and TV documentaries. Furthermore, he collaborated for several short and long movies productions in New York. In 2015, after a year living and working in Switzerland (as offcial composer for NZZ Format and Berthoud Media GmHb), Alessio decided to come back to Italy, precisely in Florence where, with Vanni Fiorelli, founded his own Music and Soundtrack Publishing Label: Rotornoise Soundtrack. Alessio continues his music career today, in Florence, as a composer of original soundtracks and instrumental songs for NZZ and Berthoud media TV and web documentaries. Presently he is working together with Vanni Fiorelli at the music score of the movie ``La partita `` directed by Francesco Carnesecchi and produced by the Wrong Way Pictures, to be released in 2018 and competing in the Riff Festival (Roma Indipendent Film Festival).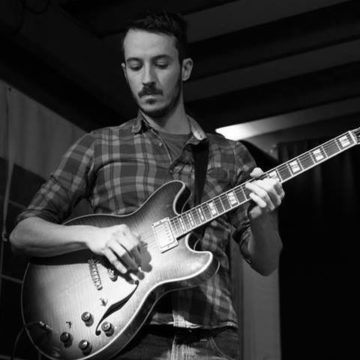 Vanni Fiorelli
Founder and Composer
Vanni Fiorelli was born in Fiesole in 1983, he started his music path at the age of 14 by starting studying modern guitar. He attended the Lizard Academy together with the Siena Jazz foundation seminars and he obtained his jazz guitar bachelor's degree at the G.B. Martini Conservatory in Bologna with 108/110 grade. He concluded his studies by attending the two-year electronic music course focusing on the movie music. Over the years he mastered his composing vocabulary by studying with masters such as Aurelio Zarrelli, Marco Biscarini, Daniele Furlati and Patrizio Barontini. In 2015 he started working as music score composer by producing the music of the short movie named `` Una storia libera `` by the illustrator Emanuele Racca which was showed in Piazza Maggiore on the 5th of July during the 70 year Legacoop celebration, this short movie was broadcasted on internet as well. In October 2015 he contribute to the music score to the theatre play named `` Visioni di Gesù ed Afrodite directed by Paolo Billi scheduled on 6 January 2016. In 2016 he worked as an audio post-production assistant for the short movie named ``Bologna 900`` directed by Giorgio Diritti. In 2017 he contributed as a freelance artist and coauthor together with Marco Biscarini to the music score of the movie ``Il Vegetariano`` by Roberto San Pietro which was released on cinema in 2018. In the same year he signed his first full-lenght movie as music score composer with the movie ``Shuluq - vento di mezzogiorno`` directed by Martina De Polo who won the Cinematography experimental centre of Rome award as the best documentary at the Spello Cinema Festival. In 2017 he started to work with Alessio Lottero and together they established the Rotornoise Soundtracks label . Under the name of the Rotornoise they produced the music scores for the NZZ `` Griechenlands neue Helden and ``Georgien Mythen une Moderne `` directed by Annette Frei Berthoud. Presently he is working together with Alessio Lottero at the music score of the movie ``La partita `` directed by Francesco Carnesecchi and produced by the Wrong Way Pictures, to be released in 2018 and competing in the Riff Festival ( Roma Indipendent Film Festival ).